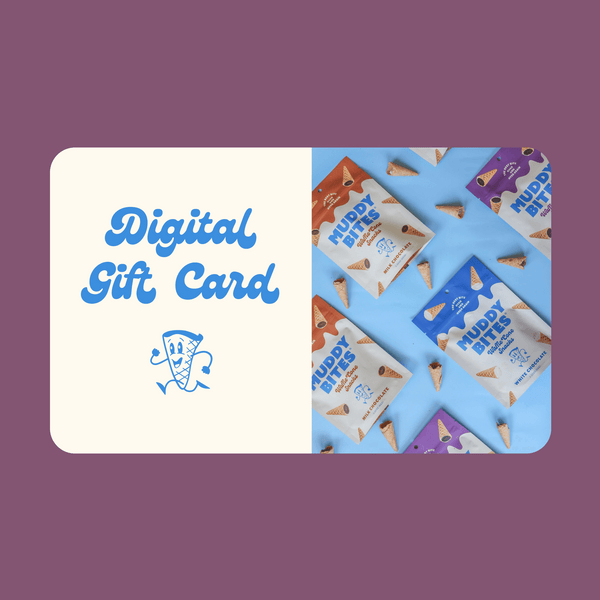 Digital Gift Card
Shopping for someone else's sweet tooth but unsure of what flavor they want? Then our Digital Gift Card is the perfect solution! Give the gift of a delicious nostalgic snack with a Muddy Bites Digital Gift Card—delivered instantly.
So Easy To Order
Pick A Card
Choose an amount and quantity, then add to cart.
The Details
At checkout, add your email to send later or add the recipient's email to send right away.
That's It!
Easy peasy—your gift card is on its way!
F.A.Q
We ship all around the world... Please provide here you own shipping information, including times, prices, options etc.
This depends on whether it is an International or a Domestic order. All orders within the U.S. are considered domestic orders and they are shipped and delivered within 2-5 business days. Please see International Orders for more details.
We accept PayPal, Visa, MasterCard, Discover, and American Express but feel free to contact us for other payment options.
We will send tracking information to the e-mail address associated with your order once the item has shipped. If you have not received your tracking information and it has been over 2 business day, please contact us at (012) 123 - 4567
When ordering as a gift for someone, be sure to enter in your email address to receive all summary information but enter in the recipient's name and shipping information. We will be sure to keep all prices and receipts out of the package.
If for any reason you are not completely satisfied with your purchase, within 30 days of placing your order, we will refund you for your purchase with no questions asked.